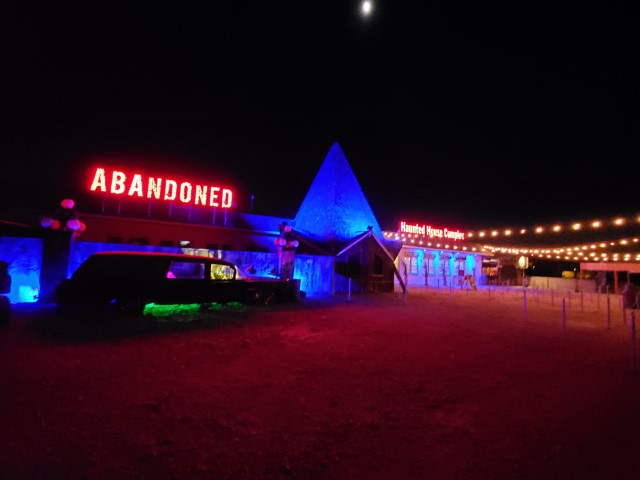 TICKETS / Operating Schedule
Be in line by 6:45p nightly to witness "The Rising", where all creatures make their way into the houses!
Abandoned 2023 Open Dates

All events are open nightly and close when the lines end.

Ticket booth open 6:30pm – 11:00pm all nights except Nov 3 & 4

FRI

SAT

Sept 23

Sept 29

Sept 30

Oct 06

Oct 07

Oct 13

Oct 14

Oct 20

Oct 21

Oct 27

Oct 28

Nov 3

Open 6:30pm-10pm

Nov 4

Open 6:30pm – 10pm


Blackout night for Hysteria

BLACKOUT NIGHT is a lights-out experience, where you will go through Hysteria Haunted House in complete darkness! Each group will get an LED candle and have to make their way through the pitch black maze of monsters. (Note: All events other than Hysteria will use standard scenic lighting)
Event Pricing
Tickets are available both online and onsite. Online tickets need to be exchanged for hard-copy tickets at the ticket window prior to entering any events. There will be a separate line for Quickpass & Online Tickets.
Ticketing Refunds and Privacy Policy
3 haunted houses
$40.00
Includes ambush, hysteria, & stalker
EVERYTHING Package
$45.00
includes ambush, hysteria, stalker, and axe throwing
quickpass special
$55.00
skip the gen admission lines: Includes ambush, hysteria, & stalker
2 location, 6 event super deal
$90.00
save $25 – quickpass admission to 3 haunted houses at abandoned & 3 haunted events at burial chamber in neenah, wi (must go to abandoned first to redeem)
Add Ons:
quickpass admission add on
$15.00
need to upgrade? only $15 extra to skip the general admission lines. feel free to upgrade at most shops onsite once on the property.
AXE throwing
$5.00
Only $5 more to put your axe throwing skills to the test